This was a huge hit last year, so I'm sharing it again! Next week I will post a few more fun Valentines projects that I have in the works new for this year.... enjoy!
I was inspired to make some Valentine decorations this year... I had bought a heart shaped wreath base, so I started with a wreath.
I hand sewed a bunch of little heart pillows. I put just a bit of stuffing inside to make them puff.
I bent pipe cleaners into the word LOVE and glued it to the wreath...
here's a peek at the back of the wreath... I just tied on the pillows with string. I could have just hot glued on a piece of cardboard or foam too...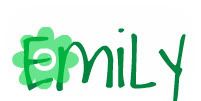 Follow along here:
Facebook
*
Pinterest
*
Subscribe in a reader