When I was growing up we were allowed to play with our new toys on the day we recieved them (birthday or Christmas), but if we wanted to play with them the next day we had to write the thank you note first. Thank you mom for teaching me the importance of thank yous!
With my own boys we don't always do them the next day, but they do get done. This year we took pictures of the boys with their toys, made a collage, signed the back and sent them off.
What do you do for thank yous in your house? I would love ideas, especially for kids!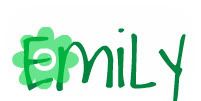 Follow along here:
Facebook
*
Pinterest
*
Subscribe in a reader
shared here:
Sundae Scoop-I Heart Naptime with Chocolate Sundaes
* Nifty Thrifty Things Sunday-Nifty Thrift Things
Simply Klassic Sunday-Simply Klassic Home *
Sunday Showcase Party-Under the Table and Dreaming